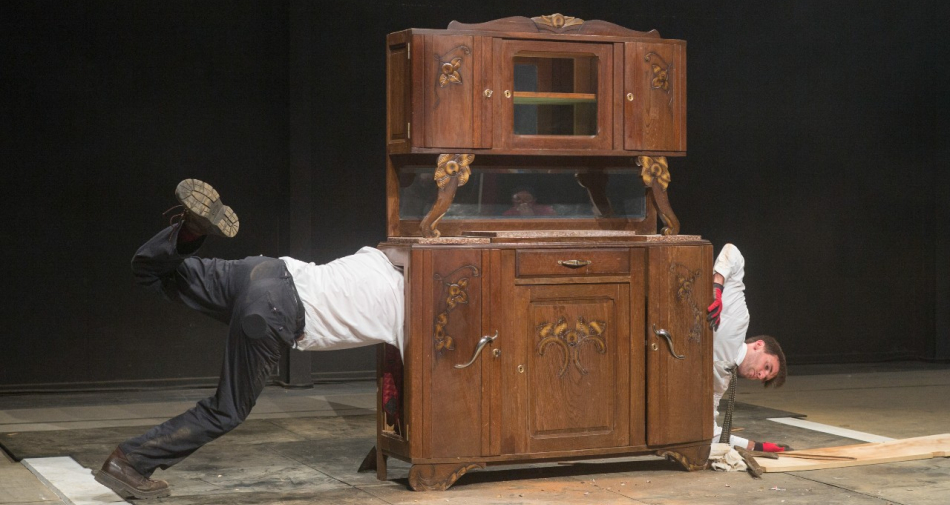 Smashed to pieces was created within the framework of the program Sujets à vif, organized by the Festival d'Avignon: two artists from two different disciplines, who do not know each other, are invited to create together a short piece presented during the festival.
Raphaël Cottin, dancer and choreographer, and Pierre Meunier, author, actor and director, and Marguerite Bordat, scenographer and visual artist, have jointly created Smashed to pieces, a joyful show about destruction.
The principle of destruction, the happy and joyful feeling in the act of breaking, the real pleasure of coming to an end with what burdens us, with what obscures our horizon, thus finding the conditions of a new start, of a possible change. Memory smashed to pieces, the body of old dismantled, space opens, no more obstacle, what's next? "Buffet A Vif" is an extraordinary, surprising show that explores the borders of theatre and performance.
- - -
The performance is about destruction. Its intent is to disrupt and dismember obstacles, to present the deeply seated violence and the relief contained in the act of liberation from burdens and things obscuring the horizon − and thus creating the conditions for a new beginning.
The show takes its source in the Sujets à vif, an answer to the invitation of the SACD (French Author's society) and the Avignon Festival to Pierre Meunier and Raphaël Cottin to present a piece together. Based on encounters and inventiveness, Sujets à Vifs invite two artists who are involved in two different artistic processes and who don't yet know each other to create a short 30 minutes piece which is presented during the Avignon Festival. The original French title Buffet à vif is inspired by the original framework Sujets à vif and therefore cannot be translated as such.
To destroy
To come to an end with it
To undermine the matter of our attention
Which obsesses us
Burdens us
Provokes us
Relentlessly
Not just superficially
But deep in the heart
Dismantle it, dismember it
Until it falls apart
Until it cracks
And resembles nothing
Until it frees us
Two of us
To back up each other in this arduous task
To cheer each other up
To improve the gesture of slaughter
To optimise
To ease the oofs!
With heavy strokes on the sideboard
All the patience reduced to nothing
This knowledge
This attachment
Talk about it no more
And on this plain covered with scattered fragments
Dance will arise
Whether victory or defeat
Others will tell
While we, zealous destroyers
Will gain a better understanding
A clear horizon
Memory smashed to pieces
No more obstacle
Who's next?
By and with Marguerite Bordat, Raphaël Cottin and Pierre Meunier
Thanks to Frédéric Kunze and Hans Kunze
Administration: Caroline Tigeot
Sales manager: Céline Aguillon - Lise Daynac
Coproduction: SACD / Festival d'Avignon - le théâtre de la Bastille
Photos: Jean Pierre Estournet
Duration: 01:10
Gallery