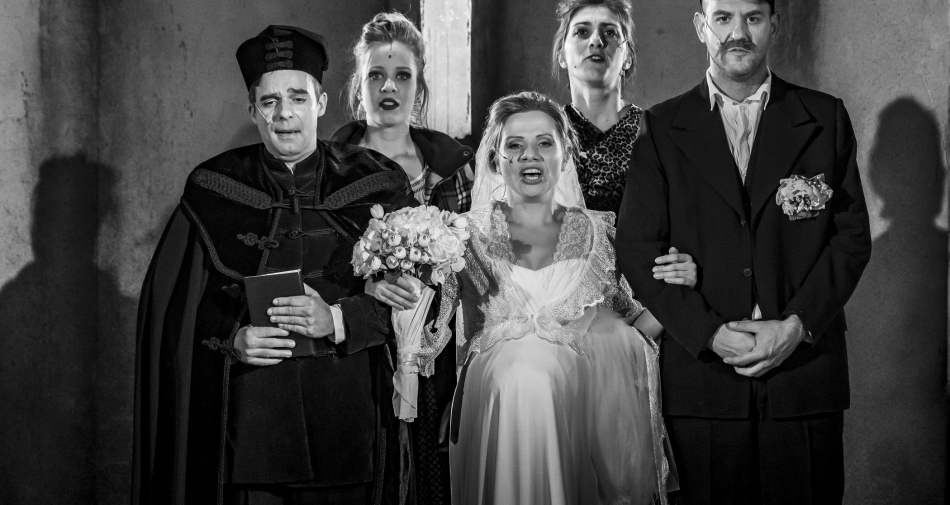 The Peasant Opera adapts a ballad-like story into an opera. The music is based on a bizarre, yet homogeneous mixture of Hungarian folk-songs from Transylvania, the baroque and pop-rock. The story is familiar to many of us. It happened to some folks on the countryside, a very long time ago. There are unhappy people in it, passion, humour, incest and murder.
Roland ‒ Bence Szalai
Mother ‒ Terézia Figura
Father ‒ Gábor Pongó
Julika ‒ Blanka Dienes
Etelka ‒ Judit László
Tündérke ‒ Emina Elor
Feri ‒ Dániel Huszta
Stationmaster ‒ Árpád Mészáros
Cowboy ‒ Gergely Káli, guest artist
Set design: Viola Fodor, guest artist
Costume design: Janó Papp, guest artist
Music associate: Dávid Klemm
Musicians: Gabriella Benák, Miklós Bolyos, Fedor Raškuc, Ernő Schwann
Lighting: Bálint Varga Somogyi
Sound: Ákos Dienes
Makeup: Bojana Radović
Stage manager, prompter: Csilla Lovas
For those over 16 years of age.
Photo: Srđan Doroški
Duration: 01:15
Gallery