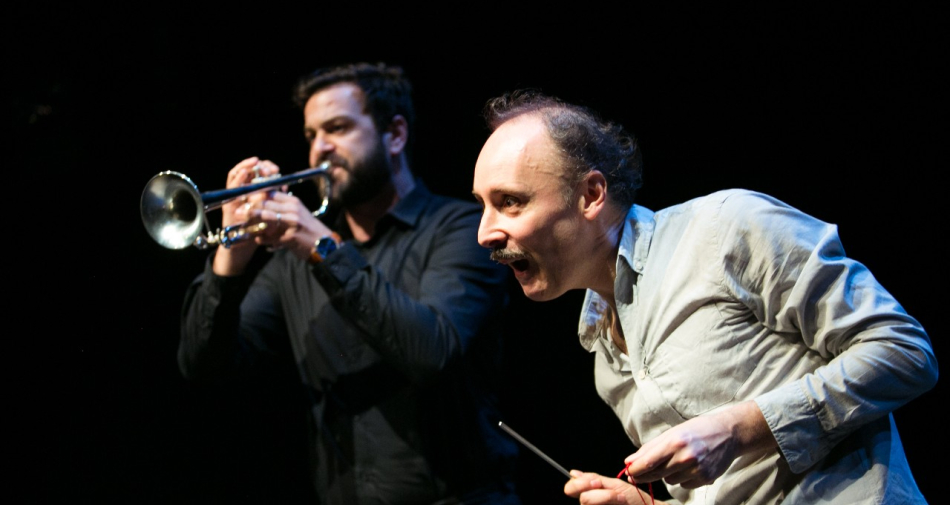 Mistero Buffo, by Dario Fo, is a virtuoso challenge for an actor, with collected monologues from travelling actor of the Middle Ages. They performed stories from the collective imaginarium, questioning authorities and turning the usual power set up upside down.
Vatican called this show a balsphemy, which was received by Dario Fo as the best possible compliment, although he suffered years long rejection from the mainstream scene. As soon as this version premiered in Zagreb, it was named one of the peaks of the season.
The virtuoso skill of 30 something characters embodied by one actor, a comical treat that uses laughter to chill you in the next moment of tragedy, is performed by Dražen Šivak (a 3 times National Actor award winner) and Lee Delong, director and clown teacher from Paris. They collaborated for years in the field of satire, clowns and mime before doing this show, which got 7 awards in the Balkan region, until now.
"How beautiful it is to see an actor so sovereign in mastering his voice, gesture and movement. In the solo piece of Mistero buffo, by Dario Fo and directed by Lee Delong, we have seen Dražen Šivak as a faultless actor, using all of his acting tools perfectly. Mistero buffo is a true art of an actor. In this performance destinies of three people are united: a genius and engaged writer, a patient and thoughtful director and a subtle and dedicated actor. Someone said: wits, talent and freedom are the base of any good theatre." – BOJAN MUNJIN, Novosti
"Dedicated, ludic and lucid actor, Šivak stands in front of an audience with his face open, playfully and bravely juggling a clowns position of open, vulnerable imperfection, 'without hiding behind the skill', having it on a high level, as far as speech, body, mimic, gesture, grimase, music and singing are concerned.
His Mistero buffo is miraculous, strangely fascinating: highly esthetized and comical in the same time, aimed for the theatre elite and common people alike, crazy of laughter and painful to tears, sharp towards political issues and mild to people's faults, farsic and tragic, grotesque and dramatic. It is dear, charming, deep and mysterious in the same time.
A charismatic actor, and his discipline of movement, speech, looks and the intense message of the performance entering the audience and then transferred outside of theatre make Mistero buffo a true theatre event." – MIRA MUHOBERAC, Vijenac
"Šivak is overflowing with enthusiasm on stage and is insisting that enthusiasm is a kind of gift that can survive any political violence. An hour of this performance goes in a blink of an eye, and the audience's delight is not only in the actor's formal skill of transformation, but in a way his celebrating tone is in one moment turned into its radical, critical opposite.
For me, Šivak's performance is something that enters the anthology of our theatre just by sheer intensity with which this actor is turning down the logic of political hipocrisy so often connected to the acting profession." – NATAŠA GOVEDIĆ, Novi list
"Glorious devastation by laughter. Mistero buffo is by its high value an extraordinary event in Zagreb theatre scene, one of the most important and best performances of the whole Zagreb theatre season." – TOMISLAV KURELEC, kazaliste.hr
"Dražen Šivak is a master, a devotee, an actor. In fire and in peace. Tempered by a myriad of techniques, truthful, shocking, funny, cynical and self-cynical, but foremost brave (…) As in a quest for meaning of each true artist." – Jury's explanation for the main Award at the Solo play in Bečej, Serbia
Awards:
• 'Golden mask for best actor' Art Trema fest, 2019. Ruma, Serbia
• Special jury's Award by Small scene and solo festival, 2019. Sarajevo, Bosnia and Herzegowina
• Audience Award, Festival TIFBU 2019., Bugojno, Bosnia and Herzegowina
• Best lead actor, Satire days 2020., Zagreb, Croatia
• Main Award, Be:femon festival, 2020. Bečej, Serbia
• Best play, Solo play Festival 2020., Krapinske Toplice, Croatia
• Special honours, Gumbek days 2020., Zagreb, Croatia
Performed by Dražen Šivak
Translator: Tatjana Peruško
Musician: Igor Dorotić
Lighting: Vesna Kolarec
Design: Klarxy
Producer: Jana Šivak
Photos: Adrijana Vidić, Petar Pavlov, Dario Hacek
Duration: 01:15
Gallery