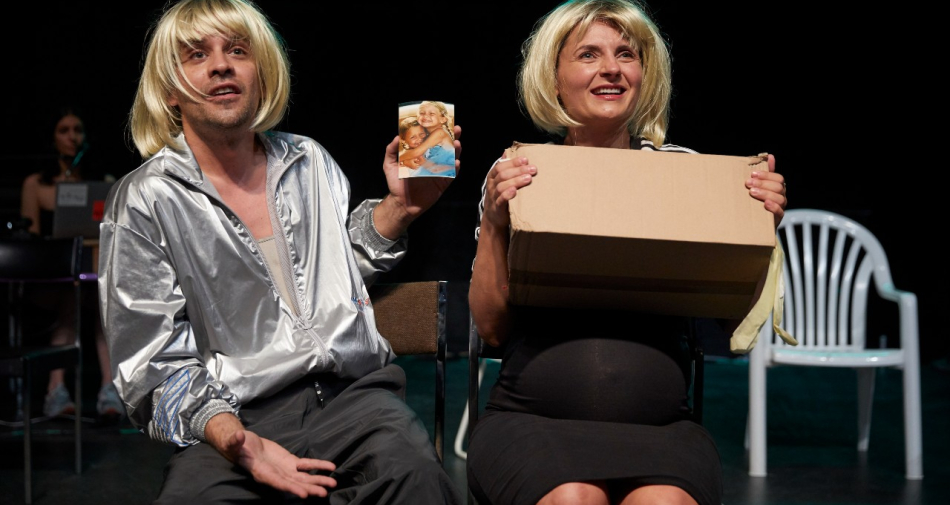 Mila was born in Switzerland, perhaps only by chance. One day she receives a mail order that turns her life upside down. Without further ado, she sets off on a journey that becomes a search for clues through the Balkans. Soon Mila wonders what made her life the way it is today and why things didn't turn out quite differently.
In joint role play, a multilingual ensemble with roots in countries of the so-called former Yugoslavia drives Mila's search for identity and a different life forward. Both, the character Mila and the group, are experiencing how changeable history is from different perspectives.
Played by Patricija Bronić, Dávid Búbos, Boris Kučov, Daniela Ruocco
Text: Daniela Janjić
Set and costume design: Romy Springsguth
Artistic collaboration: Daniela Ruocco
Composer, sounds: Milena Krstić
Eye from outside: Olga Dimitrijević
Assistant director: Felice Stockhammer
Lighting design: Matthias Keller
Technicque: Lola Rosarot
Production manager: Marie Theres Langenstein
The performance was created as part of the project "The Albanians, the Hungarian, the Serbs, the Swiss and some other little details OR: Where is home?" supported by Pro Helvetia.
Photos: Alexander Jaquemet
Duration: 01:05
Gallery