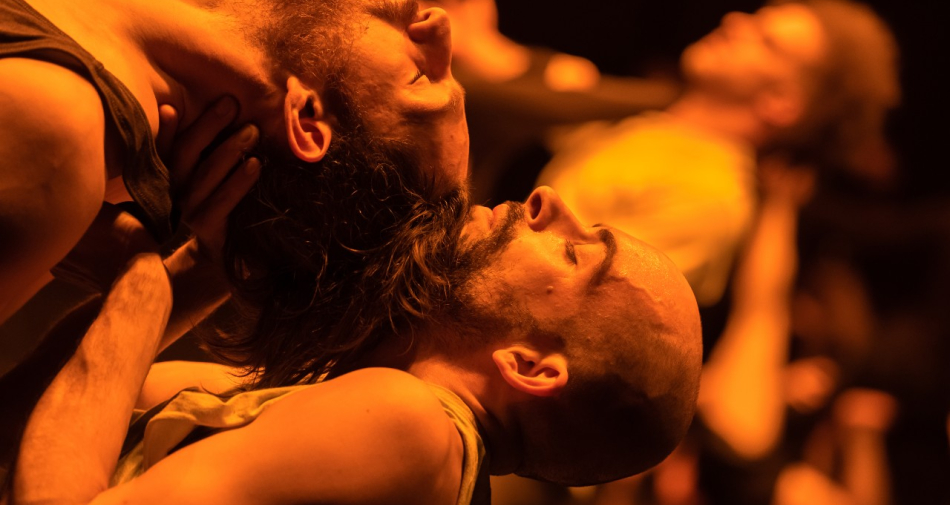 The company's latest piece – taking a sharp turn after the provocative tone of Another Dance Show from 2020 – returns to a calmer space and awaits its audience in a clean line-up with in-depth self-examination. The six dancers in the piece form three pairs who pay no attention to anyone or anything other than each other. Often they even lose themselves in their partner's movements. In the three simultaneous partner dances of the piece, passion, intimacy and attraction become clear through the universal gestures of the human body, pushing verbality and alert awareness into the background. In their closed units sensuality is expressed in an abstract form, undressing all personal human experiences. Behind the almost instinctive, contingent or barely controlled sequences of movements, the spectators can still discover a high degree of experienced attention, as the dancers reach the essence of passion. By looking at the surface of the piece it might not be evident at first, but the dancers do extremely demanding work during the play so that their consciousness is filled only by the presence of their partner. They work with the inexhaustibility of touch, the memory of the body. By stripping down norms, rules, and expectations, they are placed in a state of consciousness that they clearly created for themselves and their partners, yet it can have overriding power for anyone who has the chance to watch them.
Hodworks was founded by choreographer Adrienn Hód in 2007. Besides permanent members, the Budapest-based international company works with artists invited from different field of arts. Hodworks regroups sensible, proactive and forward-thinking creators having their own creative and concentrated working methods. They focus on the human body itself, liberated from any mediators, limits, sets or props. Hodworks pieces, always taking a new and progressive direction, are result of a long, creative body research based on improvisation, which appears in a strictly structured form on stage. Hód choreographies own a delicately developed, fine, high-quality language balancing between the exact and the very abstract representation. These pieces stimulate the audience's spirit and senses and invite us doubting in the known and opening up towards the unknown. They do not compromise; they do not want to please.
Adrienn Hód is a unique and innovative creator of the Hungarian contemporary dance scene, well-known internationally. Her pieces, Basse danse in 2012, Dawn in 2014 and Conditions of Being a Mortal in 2015, have been selected into the 20 most outstanding contemporary dance pieces by Aerowaves European dance network. Her company, Hodworks regularly appears at international festivals and theatres.
Her choreographies tend to deconstruct, destabilize, and re-build already existing dance structures. The focus of her work is the performer's status, as related to extreme human states and verbal and physical expression. Hód's performances challenge taboos, enriched with a robust but delicate humour: a radical study of the body, free of prejudice. She opens up a parallel reality, which is built up from the unconscious and the ecstatic. Her audience is attracted to a "grey zone" where "presence" dominates "meaning".
Cocreators and dancers: Júlia Garai, Csaba Molnár, Balázs Oláh, Márton Glaser, Renáta Imola Kacsó, Csaba Varga
Atistic consultation, dramaturg: Ármin Szabó-Székely
Music: Ábris Gryllus
Lighting design: Ábris Gryllus, Miklós Mervel
Production manager: György Ujvári-Pintér
Workshops during the creation:
Ádám Czirák (Thai massage)
Éva Kormos (Kundalini yoga)
Moraes Luiza Schramm (Feldenkrais method)
Péter Hollósi and Lili Kassai (bachata sensual)
Special thanks to: Tamara Vadas Zsófia, Márcio Kerber Canabarro, Jenna Jalonen
Coproduction partners: Trafó House of Contemporary Arts, OFF Foundation
With the support of: EMMI, Műhely Foundation, SÍN Culture Cenre, Art Quarter Budapest, Inversedance Company / Zoltán Imre Program
Photos: Dániel Dömölky
Duration: 01:30
Gallery